TDZ - Bezares
TDZ vane pumps and motors are manufacturers in a wide range of displacements, from 3 c.c./rev. to 269 c.c./rev for single pumps and hundreds of flow combinations for double and triple pumps. All TDZ pumps have a low power to weight ratio, high efficiency, low noise level and ease of maintenance.
Ease of maintenance is achieved by the pump design, where the working components are contained within a cartridge which can quickly and easily be replaced without disconnecting the pump from the prime mover.
TDZ vane pumps are hydraulically balanced, reducing wear and eliminating bearing loads from within the pump. The option to rotate the outlet port in relation to the inlet port provides flexibility and easy installation. Depending on the application, there are two versions: low noise industrial and mobile application models.

TDZ-Bezares specialize in supplying equipment packages into the mobile industry predominantly onto commercial vehicles and trailers. The areas served by us are Tipping, Waste collection, Recovery Equipment, Cranes, Access Equipment, Transporters, Road Tankers and others.
To enable TDZ to offer a comprehensive package to the above applications, we carry a large stock of the following products: Power Take Off's, Cast Iron Gear Pumps, Bent Axis Piston Pumps, Directional Valves, Pneumatic Controls...
Orders of Power Take Off's can be placed under a single OEM part number because we manufacture all PTO's precisely to the original manufacturer's specifications. These are just some of them: Allison, Clark, Eaton, Isuzu, Iveco, Kamaz, Mack, Mercedes, Mitsubishi, Nissan, Pegaso, Praga, Renault, Rover, Scania, Spicer, Toyota, Turner, Volkswagen, Volvo, ZF...
Whether your application is mobile or industrial, TDZ has the cartridge kit or part you need. All our kits are manufactured at our plant located in Toledo, Spain.
TDZ replacement parts are manufactured in our modern plant using the latest machining technology. From raw materials to finished products, TDZ makes sure our parts meet or exceed OEM specifications. Every cartridge kit is fully tested and guaranteed to be free of defects in material and workmanship.
With hundreds of thousands of items in stock, we can dispatch the part you need the same day we receive your order. We also carry a complete line of seals, shafts and bearings to make sure your repair is right the first time.
You can depend on TDZ to have all the parts you need to complete the job properly. Since TDZ sells only new products, you never have to risk using rebuilt or reconditioned parts.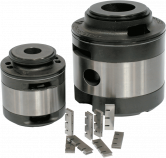 TDZ's directional control, pressure control and flow control valves offer you the flexibility to make your system operate the way you need it to operate.
With a wide array of CETOP valve styles and operating capabilities at your selection, TDZ valves maximize the control of your system through various valve combinations limited only by your imagination.
The versatility of designs, and the flexibility of various porting, spool action and circuit options, are just a few of the fundamental benefits you will find with TDZ valves.
Covered in our range is a full selection of CETOP modular valves, (check valves, flow control, pressure control, etc...) as well as a complete line of directional control valves in CETOP 3, 5, 7, 8 and 10 operated via AC/DC voltages.